Local Saskatoon Power Washing
Williams Mobile Power Wash (2016) Ltd has been serving Saskatoon for more than 20 years. We power wash almost anything, and make sure to use environmentally friendly products to get the job done. Our mobile power washers are specialized in removing unwanted graffiti from buildings, sheds, garbage bins, and more, such as: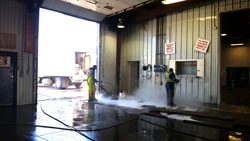 • Heavy Equipment
• Truck Fleets
• Farm Buildings
• Farm Equipment
• Parkades
• Canopies
• Store Fronts
• Vacuum Truck Service Available
As a locally owned and operated mobile power washer company, Williams values your business. We provide free estimates for our power washing services and do interior work as well. Our expert pressure cleaners can power wash dirt and grime often found on store fronts, canopies, and parkades. They are no match for our pressure washing equipment. Trust our professionals at Williams Mobile Power Wash (2016) Ltd. We can make anything clean again.